Robot vacuum cleaners first appeared in 1996. It was made by Electrolux, Swedish household and professional appliance manufacturer. It was named "Trilobite". Due to its quality of being unusual, it appeared on BBC's science TV program, Tomorrow's world.
Evolution of robot vacuum cleaners:
The first robot vacuum cleaner was a genius invention; however it faced problems in colliding with objects and also left tiny unclean areas. As a result, the Swedish household company terminated its production.
In 2001, a company from Britain made its first variant of robot vacuum cleaner but it was too costly and failed to enter into mass production. Later, an American company with its advanced technology launched a robot vacuum cleaner.
What they can do?
Robot vacuum cleaners are innovative and serve to various purposes. It reduces human intervention to a great extent and saves you a lot of time. Below are some of the features of robot vacuum cleaners.
Vacuum
The foremost feature that one would look in a robot vacuum cleaner is its ability to clean using vacuum technology. Vacuum cleaner uses an electric motor that spins a fan, sucking in air and any small particles caught up in it and gather it in its dust tank.
Wet mopping
Some advanced models can also mop/wet clean, autonomously vacuuming and wet-mopping a floor in one pass (sweep and mop combo).
A robot vacuum cleaner can tackle multi-surfaces and comes with a variety of different cleaning modes giving you options of sweeping, vacuuming and mopping damp or wet floors.
Sweep/Scrub:
A robot vacuum cleaner with multi functions is an added advantage.Few models like Cecotec can sweep any surface perform 3 levels of wet cleaning (scrub and mop), clean carpets perfectly and has special attachments for pet hair along with basic mopping and sweeping.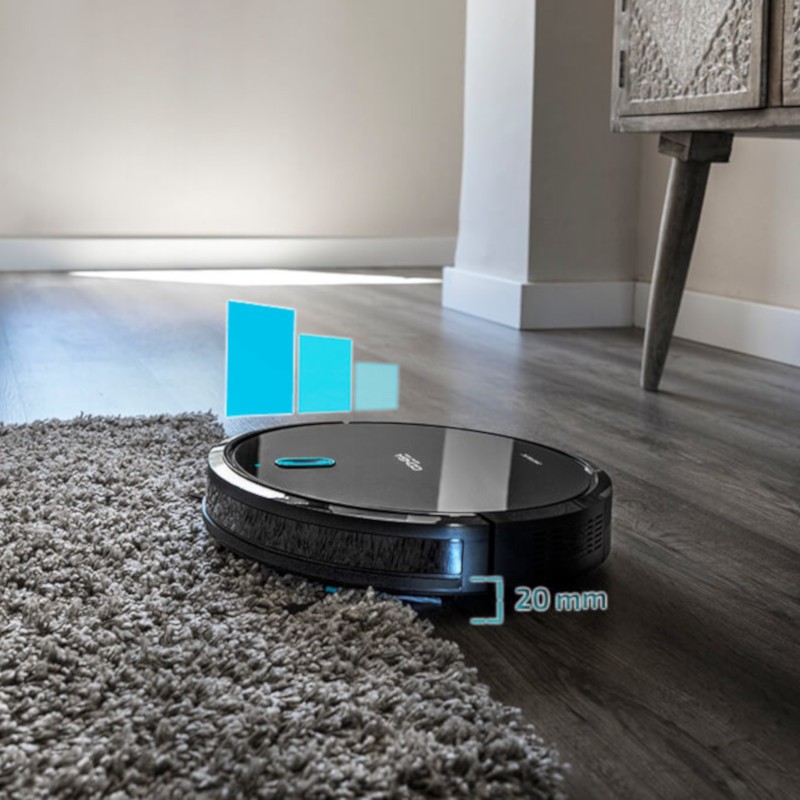 Connected app
Some models allow control of the unit using an app over a WiFi connection, from your smart phone or connected home automation device, e.g. Amazon Alexa and the Google Assistant.
Anti-drop
Many robot vacuum cleaners come with anti-drop and anti-bump IR sensors. If the robot vacuum bumps into something (like a wall or a chair leg), the impact triggers the sensor.
Besides this, anti-fall sensors measure the distance between robot base and the floor which helps in identifying a sudden raise or drop of the floor. It will help the robot vacuum cleaner to prevent falling off the stairs.
Mapping
The latest technology has helped many models come with in-built camera and laser technology which enables the robot to save map of the room for future cleaning programs.
The unit can use gyro, camera, radar or laser guided systems to create a floor plan, which can be permanently stored for more efficiency, and updated with information on areas which have been (or have not been) cleaned.
Quick recharge
Robot vacuum cleaner which takes less time to recharge is more preferred by the users. You do not really like to wait for long for your robot vacuum cleaner to come out of its charging dock and perform its task.
Pros of a Robot Vacuum Cleaner:
You need to have a look on the following advantages before you decide to have one:
1. Easy to use:
Robotic vacuum cleaners come with multiple features. However, they are very easy to use and do not require much of human intervention.
2. Efficient:
Systematic motion technology of robot cleaners makes sure that almost 95% of your carpet and floor area is clean.
3. Saves time:
There is no need for the person to be present physically when the robot vacuum is operating thereby giving you time for other activities.
4. Schedule tasks and set boundaries:
Robot vacuum cleaners let you schedule tasks to start operation any time on any date. Once you set the task, robot will begin operations on its own. Many models also allow you to set boundaries or select commands to direct the robot vacuum cleaner to handle a particular area.
5. Small, Compact & Easy to store:
Robot vacuum cleaners can be kept under bed, desks or in closets. On the other hand, regular vacuum cleaner requires a larger amount of space.
6. Works on different surfaces:
It can clean different types of floors such as wooden, carpet, tile, concrete etc.
7. Less noisy:
When compared to standard vacuum cleaners, they are less noisy.
Robot vacuum cleaners have started to gain a lot of demand in India but without having a good knowledge on the latest innovations, you may end up choosing a wrong product for yourself.
Open your doors to innovation and get yourself the right product considering the above advantages. It is your decision that reduces your effort in keeping your home tidy everyday apart from saving you a lot of time.
Find more in the store: https://cecotec.in/robot-vacuum-cleaners